Request An Immediate Quote NOW!
Fast Bids. Best Rates. Top Rated.

Pro Tip: If a tree falls on your property immediately call your home insurance
24/7 Emergency Tree Service
Immediate Response To SoCal Tree Emergencies Since 1985!
High-winds are the main cause of trees falling unexpectedly. Other times it's due to a decline in tree health, or failure to properly maintain them. If the tree or any part of it has landed on your home or on your car, contacting an emergency service is critical in order to properly assist you with your tree service situation.
Supreme Tree Experts has crews standing by 24/7, 365 days a year. We understand that an accident can happen at any time, and are ready to respond quickly to any tree service emergency.
Over 35 Years of Emergency Tree Removal and Services
Anyone with a chain saw can come and cut up a tree and remove it. Many companies might be able to offer emergency tree services, but in the case of an accident make sure that you call a crew that has a flawless track record of:
Quick response

Effectively assess the situation

Takes (appropriate) action
Supreme Tree Experts is fully licenced and insured, and has been the #1 emergency tree removal service in Southern California since 1985.
Main Reasons Why A Tree Might Fall
Root rot

This can be described as a fungus that grows due to overexposure to water. This also causes the roots to die, due to a lack of oxygen. The rot can spread through the soil which creates a problem for the surrounding area. 2.

High winds

When there are high winds, this can present an issue for your trees if their root system is not optimal. This can be from overwatering which creates soggy soil (root rot), and the tree is more susceptible to falling.
Another factor can be the soil in which the tree grows in. If it's hard, compact and not watered enough, the roots cannot grow enough and creates an unstable foundation.

Old Age

As with anything that ages, it starts to progressively break down. At a certain point a tree can lose much of its integrity and become weaker. The insides of the tree can rot, become infested with insects, lose its branches and bark. When the accumulation of the factors of old age become more than the tree's foundation can handle, it will fall over.
Why You Shouldn't Remove a Tree Yourself
Trees can be very large and in most cases be extremely heavy. Trying to cut them up or lift them yourself can be dangerous and potentially cause injury, especially if the tree has fallen on utility lines or other unsafe areas.
When you have an emergency that needs quick attention, call Supreme Tree Experts. We have the proper tools and equipment to take care of the job in a safe and effective manner. Safety is always our #1 priority.
Supreme Tree Experts is dedicated to working safely and effectively with any situation, taking extra care and precautions when it comes to emergency calls. Our crew members all have undergone extensive training in proper safety procedures. Our crews always:
Use tree saddles and safety lines
Wear hard hats, eye, and ear protection
Ensure that pedestrian and car traffic nearby is under control
Makes sure that large branches are safely lowered to the ground using ropes and rigging
Only trained employees can work within 10 feet of a power line. No exceptions.
The Importance of Tree Maintenance and Upkeep
While some tree damage is completely out of your hands, there are steps you can take to help minimize the risk of falling and further damage to one's property. Read more to find out about what we recommend:
Regular tree maintenance

Our regular tree maintenance ensures that your tree and its branches are strong and safe. A tree might look healthy to the untrained eye, but our experts are able to figure out if there are any potential risks or problems that might arise.

Tree trimming

Reducing the number of branches that your tree has makes it lighter and prevents heavy or lose branches from falling. This also enhances the health of the tree and promotes new growth.

Root and soil testing

Being aware of any tree or root disease can help keep your tree strong. If you notice that the soil under your trees is either very wet or very dry, these both could breed potential issues. Our experts can test the soil and the roots to properly assess whether or not damage is apparent.
Does My Insurance Pay for Emergency Tree Removal?
Homeowners insurance normally pays for tree removal in case of an unexpected tree emergency.
There have been cases where homeowners insurance does not cover tree removal during emergencies. Please check your policy or call your insurance company for more details, so you can be prepared if an accident involving a tree were to happen.
Typically, your insurance will pay up to 5% of your total dwelling coverage. For example, if you are covered for $500,000, you can expect the insurance company to cover $25,000 of the tree removal.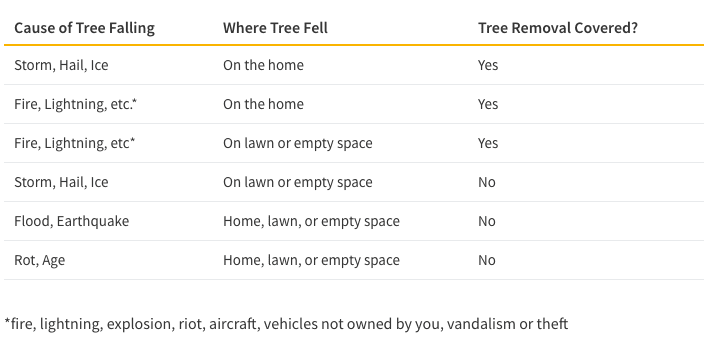 Does Supreme Tree Experts Take Care of City Street Tree Removal?
Unfortunately, we don't service any city trees that have fallen down. Please contact your city's maintenance service division for more information, and to report any incident you see.
If a Tree Falls on My Neighbor's Property, Who is Responsible?
When your tree falls on your neighbor's property, your neighbor needs to call their home insurance company and submit a claim immediately. The insurance company will typically pick up the bill if certain criteria is met.
#1 RECOMMENDED EMERGENCY TREE COMPANY
When it comes to your property, trust the pros!
"Great service! They cleaned my lot when they were done!"
"These guys are not cheap, but they do a great job and are capable of working in a high-end garden without destroying it."
"Amazing job! We were very satisfied with the service Supreme provided us. The whole process was easy from start to finish. Would highly recommend them"
"I've used Supreme Tree Experts a number of times and have always been happy with the work done! Work was completed on schedule and the crew was very polite and on time. Would highly recommend to anyone looking for a knowledgeable tree service"
"Temis really knows what he is doing. He is a tree expert. He and his team came out to trim a very troublesome large tree and another average sized tree for us. They showed up on time, they were extremely professional and did an incredible job. Temis who is a certified arborist supervised the entire job. They cleaned up and put everything back the way they found it. We are very pleased with the job Temis and his team did for us. Thank you for doing such wonderful work. I highly recommend and will be using them for ongoing maintenance and future tree trims."
"I was really happy with Temis when he came to the house and looked at my tree situation. We had a huge tree break during a wind storm and he had the guys out a few days later to pull the tree and all of the roots. Huge Job and reasonably priced. His guys were very friendly and did a great job."
"Supreme Tree is an excellent company to hire! They were great with what I was looking for. Do you self a favor and hire a company that is beyond capable of meeting your needs! Thanks, Supreme Tree Experts!!"
"Apo was very professional and provided more than asked. His crew did a great job at cleaning up my tree removal. I would highly recommend and will contract him for future work!"
"This is my second time using Supreme Tree Experts. I've mainly had trees removed and can speak to their service with that but also See first hand how they sculpt my neighbor's large trees. Professional, the cleanup and they understand how to properly shape a tree."
"SUPREME…. Supreme Tree Experts have cared for our third of an acre property (large trees and shrubs) for several years. They are true professionals, lace and trim trees expertly…No top/chop and go here. Their clean up is amazing and carefully done. The crew is efficient and gets work done in a timely manner. I highly recommend! Thank you Hernan for the fine job!"
"Needed a Queen palm removed from our front yard. Was quoted from other companies quite a bit of money and a few weeks lead time. With Supreme Tree I was happy with the quote amount and they could do it within a few days!! Said they would be on sight by noon to remove it and I came home at 12:30 to find a couple of guys cleaning up, no palm!! Couldn't be happier about it and would highly recommend them."
"Supreme's crew just removed a 100′ tall, 55-year-old ash tree from our front yard and did a "supreme" job. It took 3 days including stump grinding. They were on-time, on-cost, no property damage, and good safety procedures evident. They left the work-site clean and ready for re-planting. I recommend them!"
OUR OC & LA DISPATCH CREWS ARE STANDING BY
In order to provide you with FAST service. We have crews ready for dispatch all over Orange County and LA