Need An Estimate?
Fast Bids. Best Rates. Top Rated.

Pro Tip: Be cautious of tree "pros" that recommend tree topping
Height Reduction Tree Crowning Service
Beautifully reducing tree volume in Orange County and LA since 1985.
Tree Height Reduction, or tree crowning, or drop crotching, is a proportional reduction in the percentage of the total tree height and the complete crown width. The ability to thin and trim a tree proportionally has a lot to do with its height and time of the season. Our tree services also include tree trimming and tree shaping.
Some of the benefits of this procedure include
helping to remove excess weight from the tree limbs, maintain the tree's natural shape, and promote new, and healthy growth.
Tree Crown Reduction vs Tree Topping?
Sometimes trees get too tall or too wide. Other times they get in the way of other buildings or electrical cables, which can lead to visual impairments and safety hazards. Here's how to distinguish the two, and how to decide what you need.
Tree crown reduction
Tree crown reduction is the best and healthiest way to reduce the height of your trees. It involves trimming away of the upper foliage of the tree as well as select branches. This helps to reduce the stress on the tree, helps maintain its original shape, and promote healthy growth in the future. Our crews meticulously cut the upper tree branches to reduce the height of the tree to the next lateral growth.
Tree topping
Tree topping is a very harmful way to cut your trees and widely done by inexperienced and unprofessional tree trimmers. This method consists of cutting large tree branches from the tree and leaving only stumps on the tree. Tree topping should only be done if you are planning to remove the tree.
Not only does tree topping look aesthetically displeasing, this process comes with its share of potential risks. This dangerous practice causes weakly attached sprouts to grow from the point the cut was made. The tree will quickly grow back to the size it was before it was topped, but it will be more difficult to prune. This is because the crown is denser than it was before. Long story short, avoid the "pros" that encourage tree topping.
In some cities, topping trees is illegal. Make sure to be in accordance with local laws if attempting to top a tree, again recommended only when you plan to remove it.
Reduction of Canopy Volume
Canopy Volume is quoted as a percentage of the total outermost canopy
within the small branch and twig area. The process of reducing the volume
helps to maintain the overall shape of the tree and provides a more appealing aesthetic. You want to ensure that the canopy is properly sized to the proportion of the rest of the tree to ensure overall health.
Progressive Crown Reduction, Thinning, and Crown Lifting. What Are They?
Progressive crown reduction and thinning are adopted when the tree does not have sufficient energy stored to withstand a large reduction. Undertaking the reduction in several stages allows the tree to recover and send out new shoots below the first cut, enabling the second cut or target cut to have growth already in place for the final cut to help recovery.
Crown Lifting is the removal of all branches from the trunk up to an agreed height. This
is a technique that lessens the weight of the foliage and allows the branches the ability to naturally rise up.
What is Tree Overhang Removal?
Overhang removal is the reduction of excessive 'reach' of branches while keeping the
silhouette of the tree in balance. This allows for more airflow to be distributed
throughout the tree and it helps to bring in more light. Overhang removal usually
requires boom trucks, safety equipment and can be challenging for a non-professional.
The number one injury in tree trimming is falling, so trying to go forth with this method
on your own significantly increases your risk of an accident. We strongly recommend
leaving this job to the professionals.
Knowledgeable & Professional Crew is Here to Help
Supreme Tree Experts has the experience, training, and equipment to reduce the height of your tree in a safe manner. We have unique industry methods when it comes to trimming and shaping your tree.
Benefits of working with us:
35+ years of experience

Fully licensed & insured

The best equipment in the industry

Best arborists in Southern California

Workmanship guarantee

Free estimates

Flexible scheduling

Competitive rates
Tree Crowning Height Reduction Service FAQ
Frequently Asked Questions on Tree Height Reduction Service
How much does tree reduction cost?
A general price range would be from about $250 to $1,000, depending on your specific needs.
Factors such as the height of the tree and its overall health can affect the total price. But the best way to find out the cost is to request your free estimate.
What is tree crown reduction?
Tree crown reduction involves the trimming away of the upper foliage of the tree as well as select branches. This process is to reduce the spread and height of the tree's crown. Crown reduction is a preferred method for tree height reduction.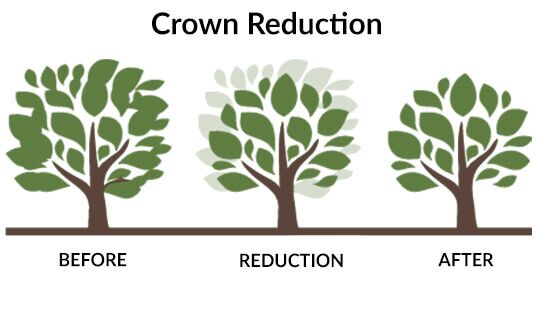 Can you stop a tree from growing taller?
No.
Unlike other organisms that stop growing when mature, trees continue growing. In fact, they grow faster when old. All we can do is limit its height. For example, if you want to make your tree 8 ft shorter, we could reduce the height of your tree by 2ft each year.
Contact your professionals at Supreme Tree Experts for an inspection and recommendations on how you should keep your tree maintained.
Why Supreme Tree Experts is #1 for Tree Height Reduction?
Our entire staff is friendly, knowledgeable, and professional. Our goal is to take care of your tree services needs in a quick and stress-free manner. To provide you with the best tree service around, we have:
Professional and experienced crew members
Plenty of available manpower for speedy service
Fully-equipped trucks
State of the Art tools for precise
Local dispatch for faster service all over Southern California
We have helped many residents of Santa Ana with their tree service needs, so let us help you too! Get in touch with the experts today for a free estimate.
We Offer Annual Tree Maintenance Plans!
#1 RECOMMENDED TREE CROWNING COMPANY
When it comes to your property, trust the pros!
"Great service! They cleaned my lot when they were done!"
"These guys are not cheap, but they do a great job and are capable of working in a high-end garden without destroying it."
"Amazing job! We were very satisfied with the service Supreme provided us. The whole process was easy from start to finish. Would highly recommend them"
"I've used Supreme Tree Experts a number of times and have always been happy with the work done! Work was completed on schedule and the crew was very polite and on time. Would highly recommend to anyone looking for a knowledgeable tree service"
"Temis really knows what he is doing. He is a tree expert. He and his team came out to trim a very troublesome large tree and another average sized tree for us. They showed up on time, they were extremely professional and did an incredible job. Temis who is a certified arborist supervised the entire job. They cleaned up and put everything back the way they found it. We are very pleased with the job Temis and his team did for us. Thank you for doing such wonderful work. I highly recommend and will be using them for ongoing maintenance and future tree trims."
"I was really happy with Temis when he came to the house and looked at my tree situation. We had a huge tree break during a wind storm and he had the guys out a few days later to pull the tree and all of the roots. Huge Job and reasonably priced. His guys were very friendly and did a great job."
"Supreme Tree is an excellent company to hire! They were great with what I was looking for. Do you self a favor and hire a company that is beyond capable of meeting your needs! Thanks, Supreme Tree Experts!!"
"Apo was very professional and provided more than asked. His crew did a great job at cleaning up my tree removal. I would highly recommend and will contract him for future work!"
"This is my second time using Supreme Tree Experts. I've mainly had trees removed and can speak to their service with that but also See first hand how they sculpt my neighbor's large trees. Professional, the cleanup and they understand how to properly shape a tree."
"SUPREME…. Supreme Tree Experts have cared for our third of an acre property (large trees and shrubs) for several years. They are true professionals, lace and trim trees expertly…No top/chop and go here. Their clean up is amazing and carefully done. The crew is efficient and gets work done in a timely manner. I highly recommend! Thank you Hernan for the fine job!"
"Needed a Queen palm removed from our front yard. Was quoted from other companies quite a bit of money and a few weeks lead time. With Supreme Tree I was happy with the quote amount and they could do it within a few days!! Said they would be on sight by noon to remove it and I came home at 12:30 to find a couple of guys cleaning up, no palm!! Couldn't be happier about it and would highly recommend them."
"Supreme's crew just removed a 100′ tall, 55-year-old ash tree from our front yard and did a "supreme" job. It took 3 days including stump grinding. They were on-time, on-cost, no property damage, and good safety procedures evident. They left the work-site clean and ready for re-planting. I recommend them!"
OUR LOCAL OC & LA DISPATCH CREWS ARE STANDING BY
In order to provide you with FAST service. We have crews ready for dispatch all over Orange County and LA.